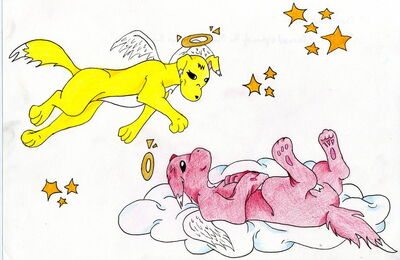 The sweet, quiet mate of
Chevis
, KitKat stayed closely by his side throughout his life. She bore him nine pups in total:
Slagar
,
Shultz
,
Mavra
,
Ama
,
Khalor
,
Mucro
,
Dash
,
Draman and
Altrean
. Following Chevis's untimely death at the traitorous paws of her own son, KitKat withdrew within herself and ultimately pined away, dying quietly to follow her mate into the afterlife.
Ad blocker interference detected!
Wikia is a free-to-use site that makes money from advertising. We have a modified experience for viewers using ad blockers

Wikia is not accessible if you've made further modifications. Remove the custom ad blocker rule(s) and the page will load as expected.