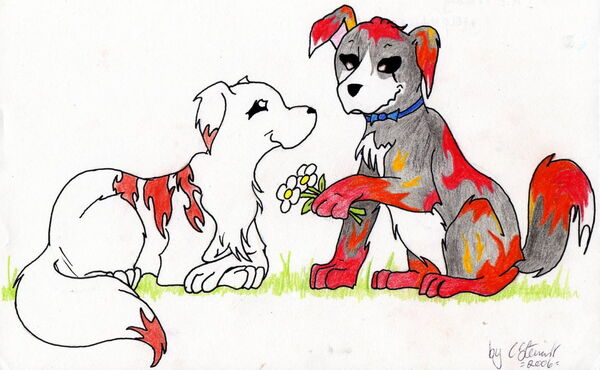 Little is known about Flamey's life before she met A_E. Like her mate, Flamey grew up among humans, and she quietly agreed to follow A_E into the wilderness to expand their family and build the beginnings of their pack. Flamey is polite, quiet and a bit enigmatic, but with an immense inner strength that has allowed her to withstand the turmoils thrown at her by life as a Fire Eagle.
Flamey is mother to sixteen pups: Bold, Daring, Fox_E, Friendly, Hunter, Bounder, Dreamer, Dante, Alikra, Cloud, Arrow, Slade, Frost, Creamy, Silver Eagle and Bright. A young seventeeth pup, Rainbow, died as an infant.
Ad blocker interference detected!
Wikia is a free-to-use site that makes money from advertising. We have a modified experience for viewers using ad blockers

Wikia is not accessible if you've made further modifications. Remove the custom ad blocker rule(s) and the page will load as expected.